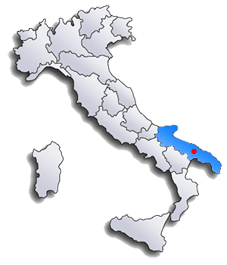 Difficult to list all the good reasons for going to discover the heel of the Italian boot... With landscapes changing colours from red to the ochre pastel, immaculate white villages under a sky of a saturated blue, streams of a turquoise blue, olive tree fields, this is the Apulia Region.
Landscape, sea, history, culture and gastronomy characterize the region which landscapes, preserved from the urbanization and the pollution, compose one of the most beautiful regions of the Italian peninsula. Alberobello, "Capital of Trulli", situated in the heart of the Valley of Itria is a classified site UNESCO heritage since 1996. Its geographical situation is an ideal location to visit the region which is able to satisfy all the multiple aspiration of any traveller.
The route of the castles and cathedrals, the route of trulli and caves, the baroque of Lecce and Martina Franca, Ostuni the white city, the classified Locorotondo and Cisternino among "the most beautiful villages of Italy" are only some examples of the marvels of this region with, of course, the crystal water of the sea (from Alberobello, we reach as well the Adriatic Sea (20 km from Alberobello) as the Ionian Sea – Mediterranean side).
The Valley of Itria is a portion of territory of the centre of the Apulia Region, on horseback between the provinces of Bari, Brindisi and Taranto. Its territory coincides with the south part of the high plateau "Murge" (itself situated in the central part of the Apulia Region). The main characteristic of the Valley of Itria consists in the trulli, typical and unique stone houses with conical roofs.
Also known under the name of "Valley of Trulli", it includes Alberobello, Noci, Cisternino, Villa Castelli, Ceglie Messapica, Locorotondo e Martina Franca as well as some other bordering cities.